It is with sadness and disappointment that we announce the cancellation of the 2014 10th Annual Brown County Breakdown. This decision was made with much care and consideration, and we apologize to all who have made plans to attend this year's event.


Over the years Sub-9 Productions has worked with the Hoosier Mountain Bike Association to create a world-class event that draws participants from across the country. Recent negotiations and discussions about the event has exposed substantial fundamental and creative differences between Sub-9 and the HMBA that, unfortunately, cannot be reconciled.
The HMBA has decided to hold an event on the same weekend and same location without Sub-9's involvement. This will be a distinctly different event and should not be confused in any way with the Brown County Breakdown.


Regretfully,
Tania and Jonathan Juillerat
Sub-9 Productions


The Brown County Breakdown is an event run by Sub-9 Productions and is the largest fund-raising event for mountain biking in Indiana! Enjoy an epic ride on beautiful trails within one of the largest and best-preserved contiguous hardwood forests in the Midwest. The ride begins and ends at beautiful Brown County State Park near Nashville, Indiana. We have a full weekend of events planned. Please see the Event FAQ for details.


Named one of the "Best Bike Fests" by Outside Magazine!
It isn't a race, it's just a great ride in the woods with a few hundred of your closest friends!


2013 Event Highlights:

~ Free bike and product demos on Saturday, September 28 from 10 a.m. until 5 p.m.

2013 demo participants will include: Giant, Cannondale, Trek, Specialized, Liv/giant, Gore, SRAM, SKS-Germany, HMBA, NITRO, Hesitation Point Bike & Backcountry, Scott Bikes, Kitsbow MTB Apparel , Kona and more! Demo is free and open to the public.


~ Limited group tent camping at the start/finish area on Friday, September 27 and Saturday, September 28 for $15 per person. You must pre-register and pre-pay online to camp. Kids 12 and under camp free all weekend. We will also have limited RV and camper parking for $75 for the weekend. Camping space is limited. Here is a Google Map of the Camping Area


~ Commemorative Brown County Breakdown pint glasses for registered participants
(while supplies last)


~ Trail, trail and more trail! We pack more
sweet single track
into this event than any other mountain bike event around. The Breakdown route is one huge out-and-back (no repeating loops!) and is the only day of the year when riders can connect the IMBA Epic Brown County State Park trails with those in the nearby Hoosier National Forest and Yellowwood State Forest.
Ride as little or as much as you like... up to 100 miles available to ride in just one day!


~ Lots of prizes will be given away randomly to participants!

2013 prizes include: a $600+ camping package from REI (including REI Kingdom 6 tent, REI Connect Tech Garage, REI Picnic Cooler and two chairs) a brand new Trek
Xcaliber 4, tons of Hammer Product and all participants receive a free copy of the latest Dirt Rag magazine!


Click here to find out how you can win a bike worth over $6,000!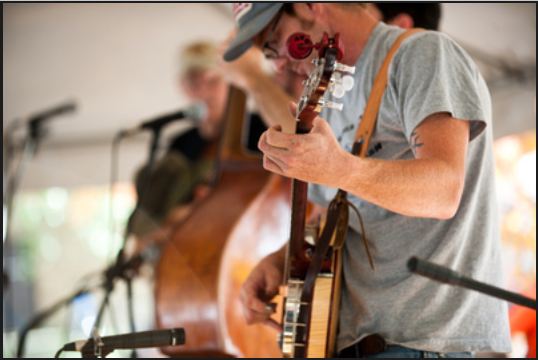 ~ Lots of live bluegrass music! Join us throughout the weekend for live performances from local, regional and nationally recognized bluegrass bands. The 2013 event will feature music from th New Old Cavalry, White Lightning Boys, Chicago Farmer, "one man jam band" Derrick Howard, Eric Lambert and Friends, the Stuttering Ducks, Whipstitch Sallies and the Rumpke Mountain Boys!

~ There will be live bluegrass music from
Weed Patch Music
at the hidden cabin rest stop as well as live bluegrass and acoustic music at the finish area. We even have some musical surprises up our sleeves. You'll have to come ride to find out!
~ Complimentary beer tasting sponsored by
Upland Brewing Company
(Bloomington, IN) and
Big Woods Brewing
(Nashville, IN) for participants and volunteers. Must be 21 or older. ID required.
Live music and complimentary beer are exclusive to event participants, volunteers (and their families) only.



~ A huge hog roast at the end of the ride provided by the legendary

Jug's Catering. The menu includes fresh roasted pork that melts in your mouth, fried chicken, baked beans, au gratin potatoes, corn on the cob, Brown County fried biscuits with apple butter (how many can you eat?), pasta salad and ice cold lemonade to wash it all down!

~ Access to the hog roast for friends, family, and non-riders will be available at the finish. The cost is $20 per person. Children ages 7-15 are $15 and children under 6 are free! Please pre-register for the hog roast to ensure availability. Food trucks available on Saturday from Noon to 8 p.m Not included in event registration.



~ Great rest stops provided by

Nebo Ridge Bicycles, Bluegrass Bicycle Company, Hesitation Point Bike & Backcountry

and

Friends of Brown County State Park

with plenty of snacks

and fluids. The main rest stop features a hidden, private cabin in a beautiful wooded valley with live music and features free, professional mechanical support provided by

Salt Creek Cycles.



~ Join us on Saturday for the NITRO Kids Zone and Family Fun Ride hosted by the

Northeast Indiana Mountain Bike Riders Organization

! Bring the kids along for the weekend to play on obstacles and ride a little trail. This is a great way to introduce the young ones to off-road cycling in a safe and fun environment!