---
Two Night Run at Deer Creek for Summer 2004
Phish announced their
Summer Tour
on Tuesday, April 13. Phish will perform thirteen concerts this summer in two short legs - eight shows in June and another five in August. They will play two nights at Deer Creek on Wednesday, June 23 and Thursday, June 24. Deer Creek is among a short list of five favorite Phish venues to receive a two night stand on this upcoming tour.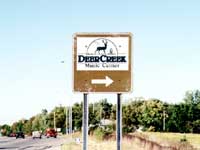 I know I am a little biased, but I have to say that Deer Creek shows have always been some of the best of my Phish "career". One of the best things about the Creek is the scene. I always feel that there is a lot of love floating around. Do your part and spread a little of yours around. It will come back to you for sure! If you've never been to Deer Creek for a Phish show, I hope you enjoy every minute of this unique Phish experience. For those of you that are making a return trip, I don't need to tell you how much fun it can be.
BTW...Ladies, my buddy
Chuck
will be there, and he is a party animal. Single too! If you say please, he may give you a sip of his High Life.
---
Creek Credentials...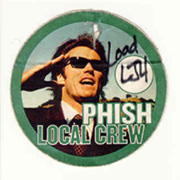 It is the only venue that the band has played every summer that they have toured since 1995.

It has been voted favorite outdoor Phish venue by a Pharmer's Almanac Readers Survey.

It was nominated by Pollstar for a Best Large Outdoor Concert Venue Award.

Phish was awarded the Best Live Performance Jammy Award in 2001 for their July 11, 2000 show at Deer Creek.

It was the only venue with a three night run during Summer Tour 2000 and will once again be the only venue with a three night run during Summer Tour 2003.

It is spread out over 228 spacious acres and is surrounded by beautiful Indiana farmland.
The Stuff of Legends...
"Deer Creek. For those who have been here before, it's like Christmas in July all over again. For those who have not experienced the event that is Deer Creek, all we can say is expect the unexpected. Because who could ever expect a blistering version of the Smashing Pumpkin's 'Rhinocerous' to open the show (1998) or a thirty minute 'Cities' leading into a forty plus minute 'Good Times Bad Times', complete with a Mike Gordon piano solo (1997). If you think we're making an effort to hype you up for these upcoming shows here at Deer Creek, you're damn right. Any concert at Deer Creek is a tough ticket, simply because of the intimate setting and amazing sound this venue boasts. The Indiana night sky, the great lawn screen camera work, and sparkling acoustics have made Deer Creek perhaps Phish's favorite summer venue. So prepare yourselves for a mind-jolting show, folks. You have reached the top of the mountain!"
Written by Kevin Cassels. Reprinted with permission from the Pharmer's Almanac Tour Extra Vol. 7, No. 6 (7/25-26, 1999).