A Mountain Biker's Vacation Getaway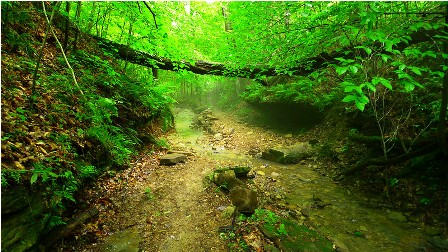 The trail at French Lick Resort begins with the 5.5 mile, Buffalo Trace Trail. A beginner level loop that can be ridden either direction, leaving riders to enjoy a steady, easy climb followed by a fast and flowing decent no matter which direction they choose. The Buffalo Trace trail was built by resort employees under the direction of Alex Stewart of Spectrum Trail Design, the same professional trail builder who helped design and build mountain bike trails alongside the Hoosier Mountain Bike Association at Brown County State Park.

The intermediate Waterfall Loop is a brand new addition opened in early 2010 and offers riders more technical terrain, steeper climbs and views of a gorgeous waterfall that makes you forget you're in Indiana, a place known for corn fields and flat farmland. With over nine miles of trail already on the ground and over 3,000 acres of land available, French Lick is quickly becoming Indiana's new mountain bike "gem" and could be the next Midwest mountain biking destination.


Details

Beginner Trails
Buffalo Trace Trail (5.5 mile loop with shortcut option)


Intermediate Trails
Waterfall Loop (3.5 mile loop)

~ All the trails are shared with hikers and trail runners
~ Please know and follow IMBA's Rules of the Trail
~ The trail system is open year round.

~ The park is open from 6:00 a.m. to 11 p.m. (EDT)
~ Night riding is allowed until park closes.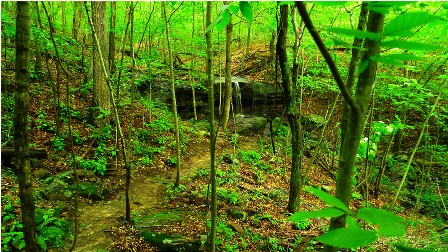 Directions to the Trailhead
French Lick Resort is located off State Road 56 in French Lick, Indiana. It is within easy driving distance from several Midwest locations. Riders can enter through the main resort entryway and drive beyond the resort check-in and valet to the visitor parking. Riders much check-in and sign a release waiver at the Valley Links Golf and Pro Shop where they can also use the fantastic amenities such as bathrooms, lockers and even showers!