Located along the Ohio river in the southwest Indiana, O'Bannon Woods State Park has more elevation than Brown County State Park and includes unique features such as limestone bluffs, caves and waterfalls. The Hoosier Mountain Bike Association partnered with the Kentucky Mountain Bike Association to develop and maintain the mountain bike trails in O'Bannon Woods. While the HMBA has led in the development of the master trail plan and continues to be the main liaison with the Indiana DNR for trail development, KyMBA has led many trail events and will continue to host regular trail building events
in the future.
In 2009, Spectrum Trail Design led members of the Young Hoosier Conservation Corps to rework the popular Rocky Ridge trail and build a connector trail to reorient the trailhead toward the park's entrance. This six mile loop was part of a $250,000 grant awarded to HMBA, to build trail in several Indiana State Parks.

O'Bannon Woods State Park not only offers the most unique trails in the region, but also the 24-mile long Adventure Hiking Trail (AHT) that is a true back-country experience comparable to the most remote trails in the Pisgah National Forest, N.C. The trail has recently been opened to mountain bikers and can be woven in with the mountain bike trail for a truly epic ride. With its rugged terrain and scenic views of the Blue and Ohio rivers, riders should expect a long day in the woods with hike-a-bike sections and difficult navigation.


Details
Due to the nature of the terrain, most trails in O'Bannon will be slightly more difficult that their similarly labeled counterparts in other Indiana parks.
Beginner Trails
Fire Tower Connector (2 miles)


Intermediate Trails
Rocky Ridge Loop (4 miles)


Difficult Trails
Adventure Hiking Trail (24 mile loop)
Be prepared! Carry plenty of water and a map
~ All the trails are shared with hikers and trail runners
~ Please know and follow IMBA's Rules of the Trail
~ The trail system is open year round
~ The park is open from 6:00 a.m. to 11 p.m. (EDT)
~ Night riding is allowed until park closes.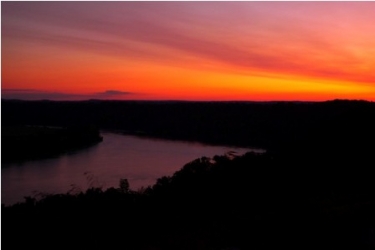 Directions to Trailhead

O'Bannon Woods is located within the Harrison-Crawford State Forest. Entrance to the trail is located just up the road from the campground near the fire tower. The Fire Tower Connector leads into the Rocky Ridge Loop. The Adventure Hiking Trail can be accessed at several different points, however it is recommended to start at the Pioneer Cabin. Riders should avoid starting at the "D" section of the campground as this is now a horse section and busy on weekends.