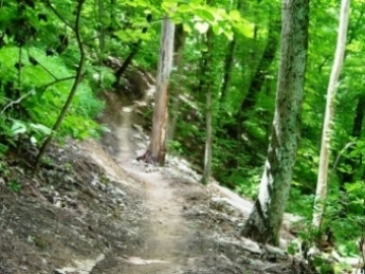 These days the rolling hills of Ripley County are offering more than just a scenic drive. People from across the Midwest are recognizing Versailles for it's varied terrain and challenging mountain bike trails. With over fourteen miles of mostly intermediate trails, riders can expect to find tough, yet sustainable climbs with challenging rock sections. Trail built along a cliff side will not only leave riders in awe of the scenery, but the quality of trails built here.
This fairly undiscovered trail system has been built and maintained by the Hoosier Mountain Bike Association along with help from Cincinnati Off-Road Alliance members. The trails here made their debut in 2006 with an initial nine miles and in 2008 Spectrum Trail Design, a professional trail building company, led volunteers from HMBA and CORA in adding the five mile Shadow Run trail and two mile Cliffside Trail as part of a $250,000 grant awarded to HMBA. Volunteers worked alongside members of the Young Hoosier Conservation Corps to build these trails which run along the face of a cliff and cross over two waterfalls.

Details
Versailles State Park has over 14 miles of trail on the ground that can be ridden either direction to make for an even longer ride!
Beginner Trails
Shadow Run Loop (4 miles)


Intermediate Trails
Creekside Trail (1.4 miles)
Center Loop (2 miles)


Difficult Trails
Cliffside Trail (2.5 miles)
Grandview Loop (6 miles)


~ All the trails are shared with hikers and trail runners

~ Please know and follow IMBA's Rules of the Trail
~ The trail system is open year round
~ The park is open from 6:00 a.m. to 11 p.m. (EDT)
~ Night riding is allowed until the park closes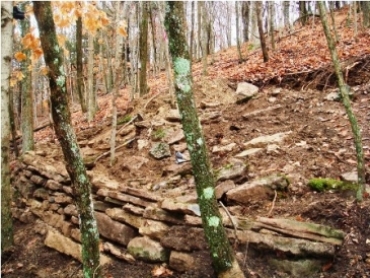 Directions to the Trailhead
Versailles State Park is located in south-eastern Indiana. Enter the park from State Road 50 and follow the signs for the pool. The trailhead is located adjacent to the swimming pool parking lot. Restroom facilities are available near the Nature Center and Campground Store or for $2 riders can use the pool facilities.